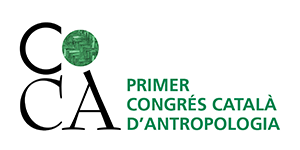 30 January – 1 February 2020
GENI organises a panel within the First Catalan Congress of Anthropology (Congrès Català d'Antorpologia -COCA-).
Panel 16: Nous imaginaris sobre els processos d'identificació i opressió. Problematitzacions i aproximacions crítiques al gènere, la identitat i la diversitat:
This panel addresses theoretical and ethnographic approaches that show the limits of hegemonic categorizations on gender, identity and diversity, as well as critical reflections on how the very discipline of anthropology can (re)produce hegemonies and inequalities. 
Communication proposals to this panel can be sent until December 1, 2019.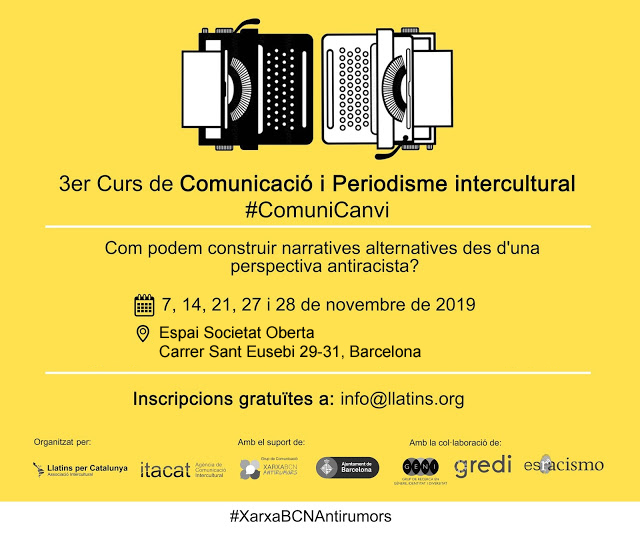 27 November 2019
GENI takes part in the 3r Curs de Comunicació i Periodisme Intercultural organised by Itacat and Llatins per Catalunya, with a presentation by Malin Roiha and Olga Jubany on the results of the project REACT. 
The course, which will take place every Thursday in November and Wednesday 27, will be held at the Espai Societat Oberta on Carrer de Sant Eusebi 29-31, in Barcelona.
The course is free but signing up is required (link)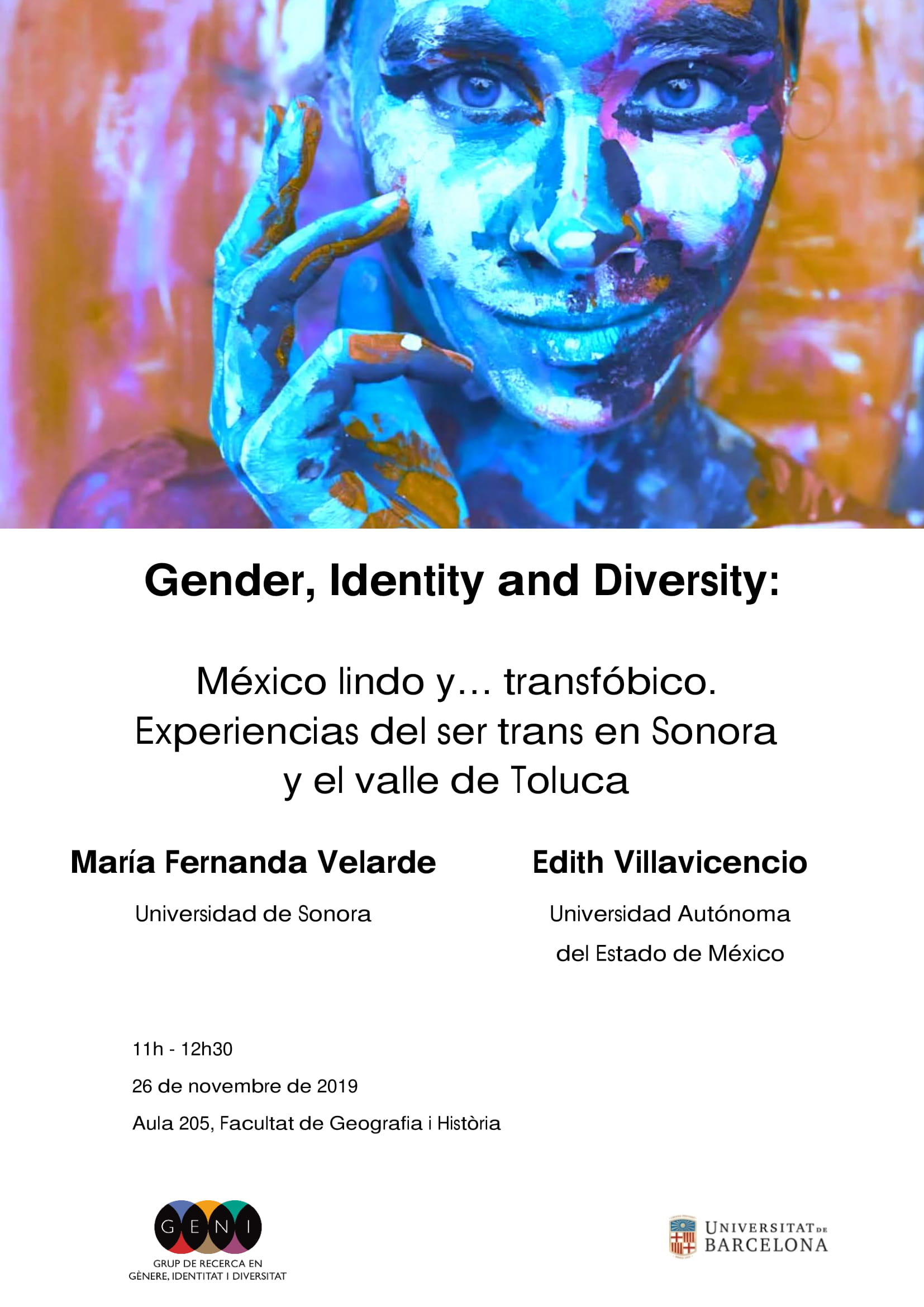 26 November 2019
Fernanda Velarde and Edith Villavicencio, visiting scholars from Mexico, will present their researches at the next Seminari GENI on the 26 Novembre. 
From 11h to 12h30, at Room 205 at the Facultat de Geografia i Història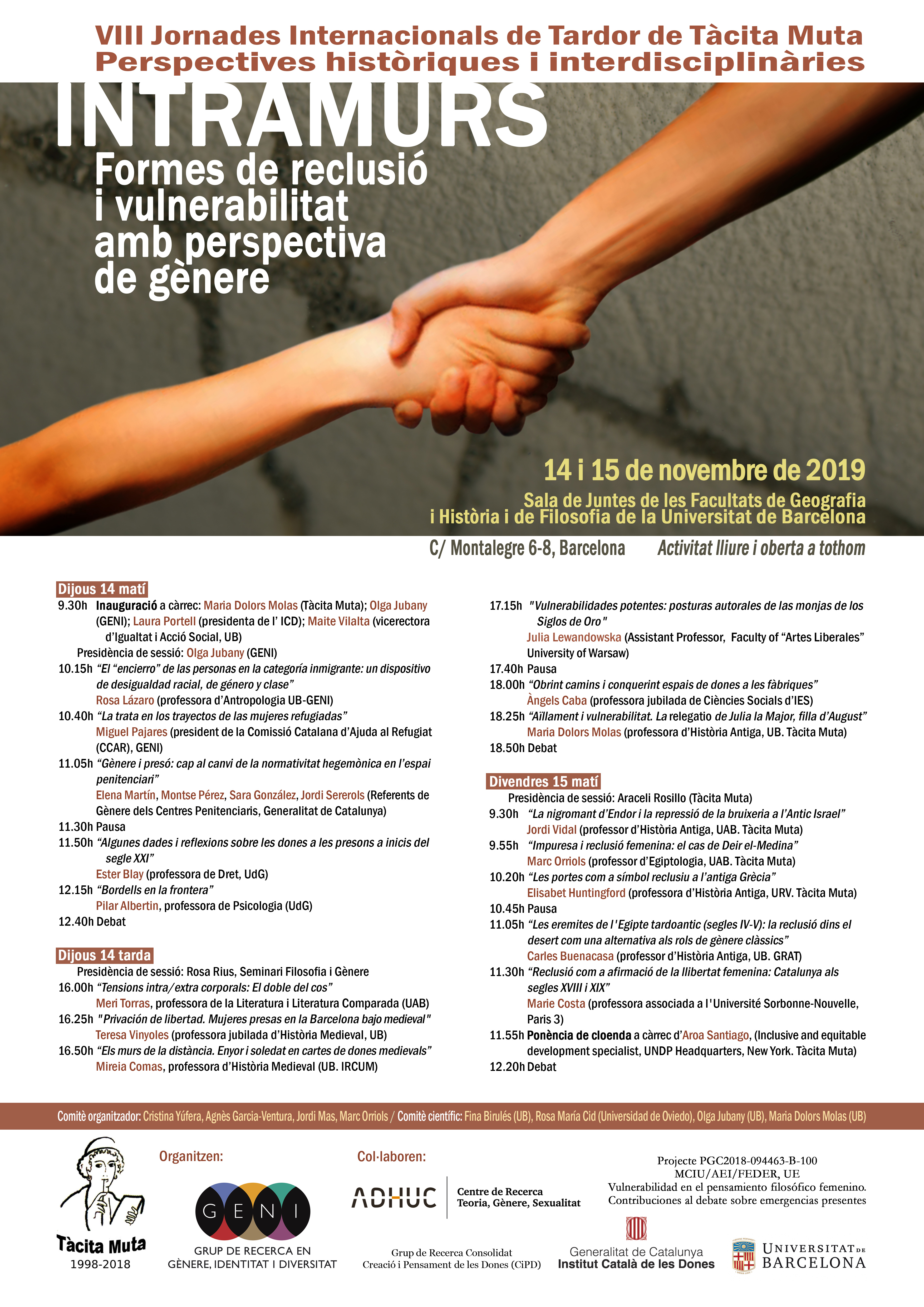 4-15 November 2019
Jornades Tàcita Muta: Intramurs. Formes de reclusió i vulnerabilitat amb perspectiva de gènere. 
Sala de Juntes at the Facultat de Geografia i Història from 9h30 to 19h00 (Thursday 14) and from 9h30 to 12h30 (Friday15)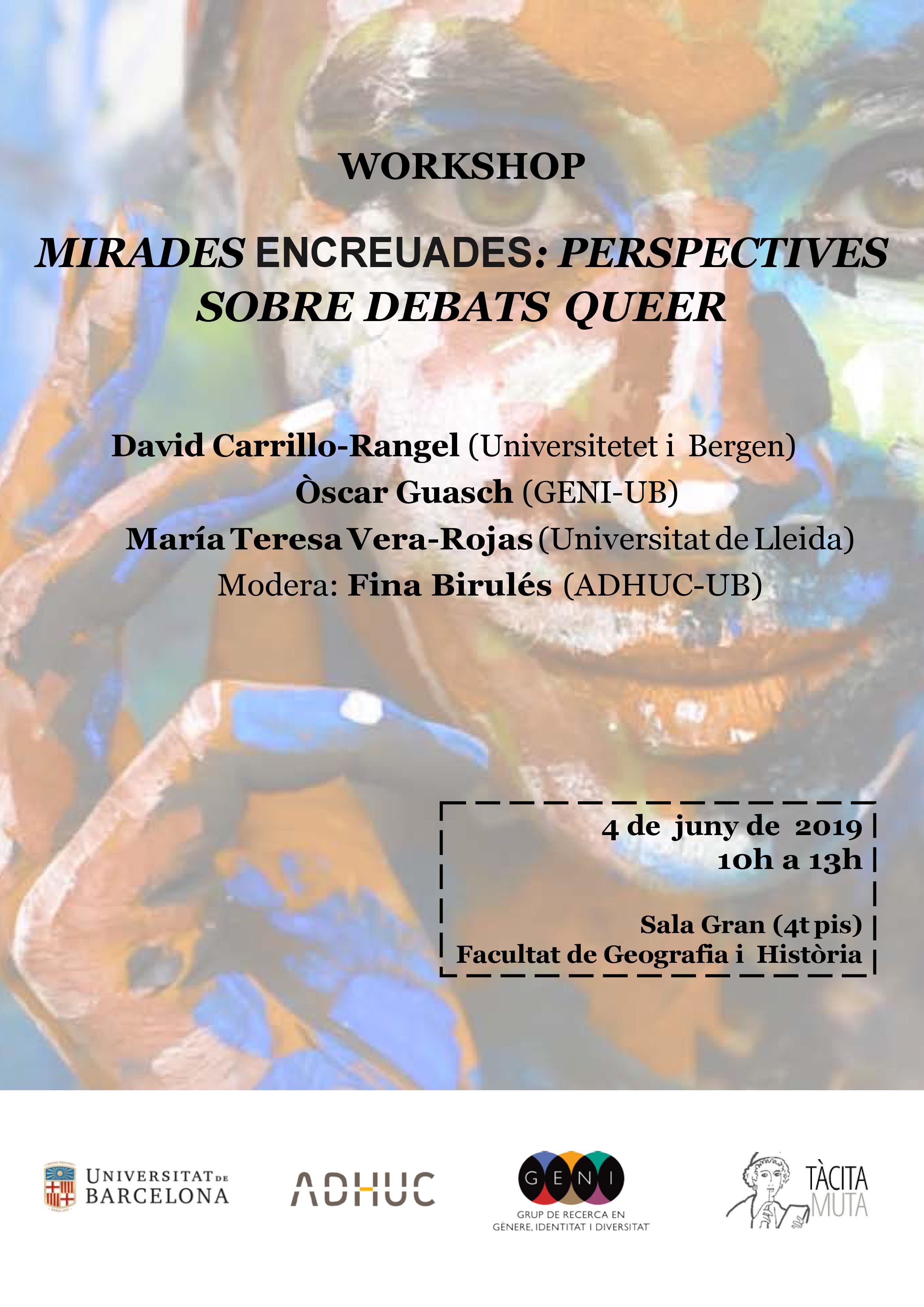 4 June 2019
GENI, ADHUC and Tàcita Muta organise the workshop: Mirades encreuades: Perspectives sobre debats queer
10h00-13h00
Sala Gran (4th floor)
Facultat de Geografia i Història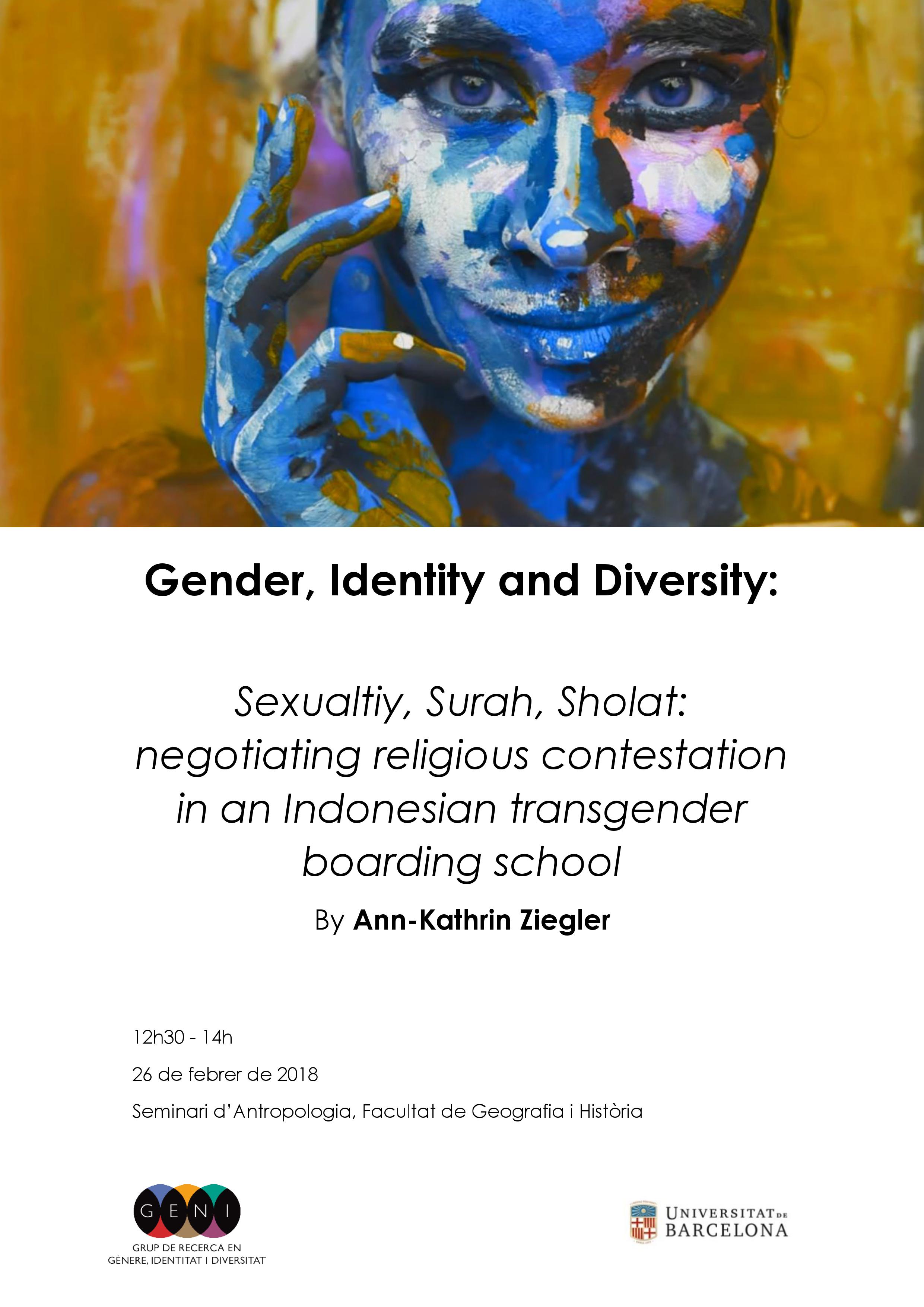 26 February 2019
Ann-Kathrin Ziegler presents: Sexuality, Surah, Sholat. Negotiating religious contestation in a Indonesian transgender boarding school.
The seminar will take place on the 26th of February 2019 at the Seminari d'Antropologia from 12h30 to 14h00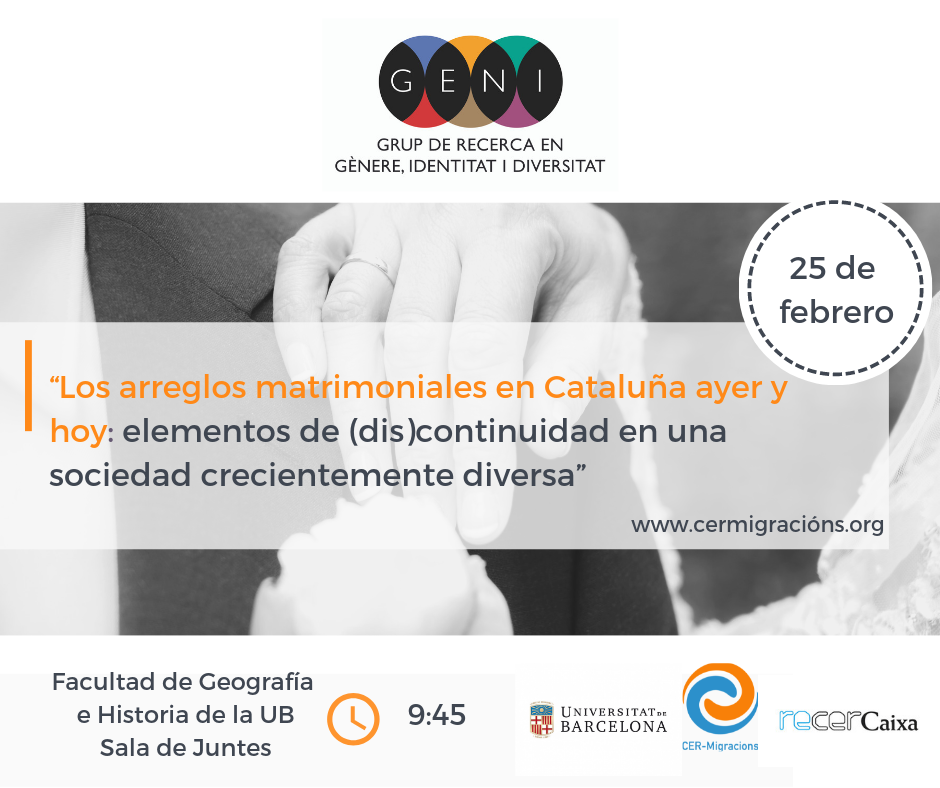 25 February 2019
Next Monday GENI organises the conference: "Los arreglos matrimoniales en Cataluña ayer y hoy: (dis)continuidad en una sociedad crecientemente diversa.
We hope to meet you at Sala de Juntes at 9:30am. 
The programme includes debate sessions on: 
Marriages among relatives in Barcelona in the 19th century
Forced and arranged marriages among migrant communities in the 21st century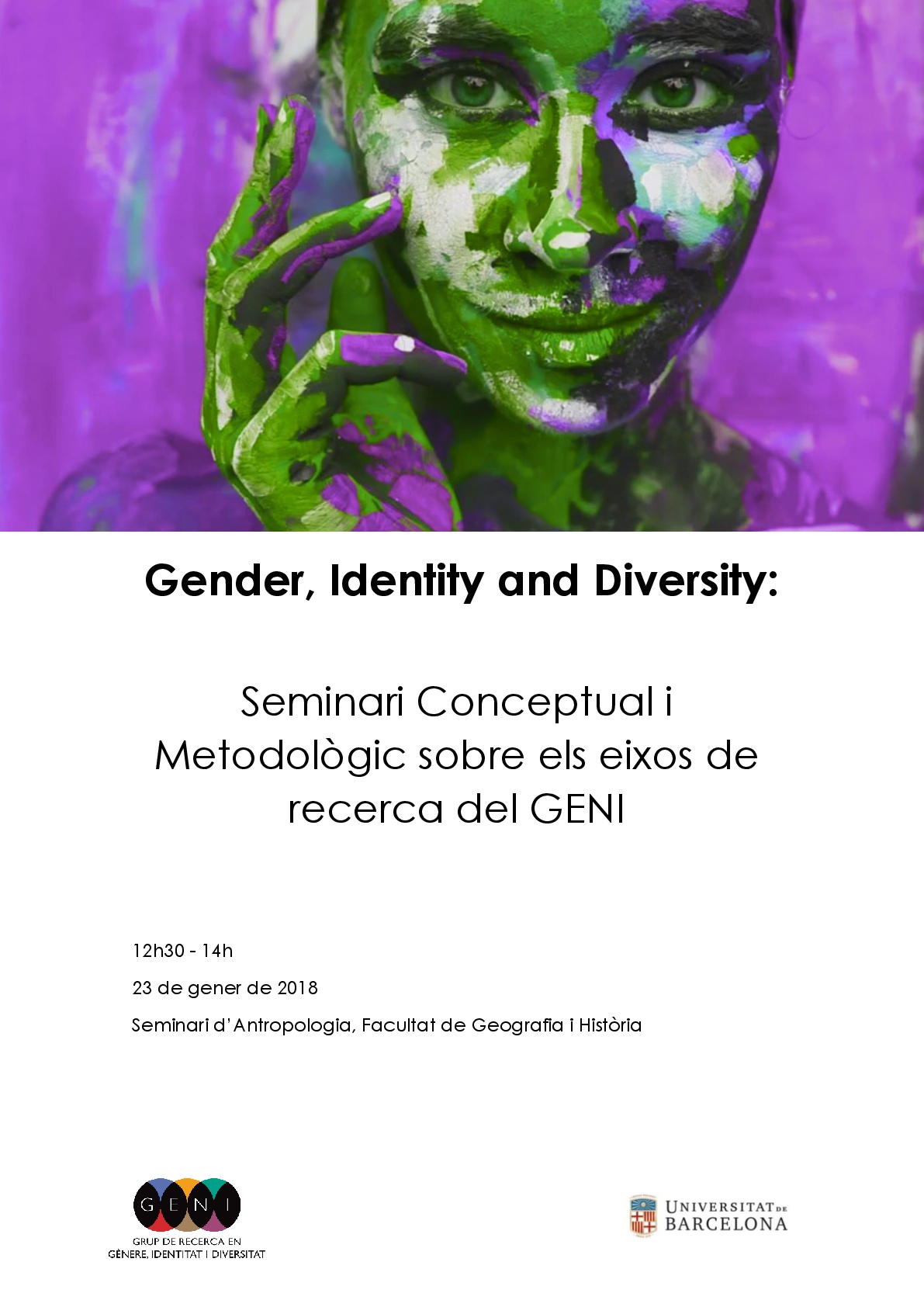 23 January 2019
GENI organises a seminar for members on the conceptual and methodological grounds of its research lines.
The meeting will take place on the 23rd of January 2019 at the Seminari d'Antropologia from 12h30 to 14h00.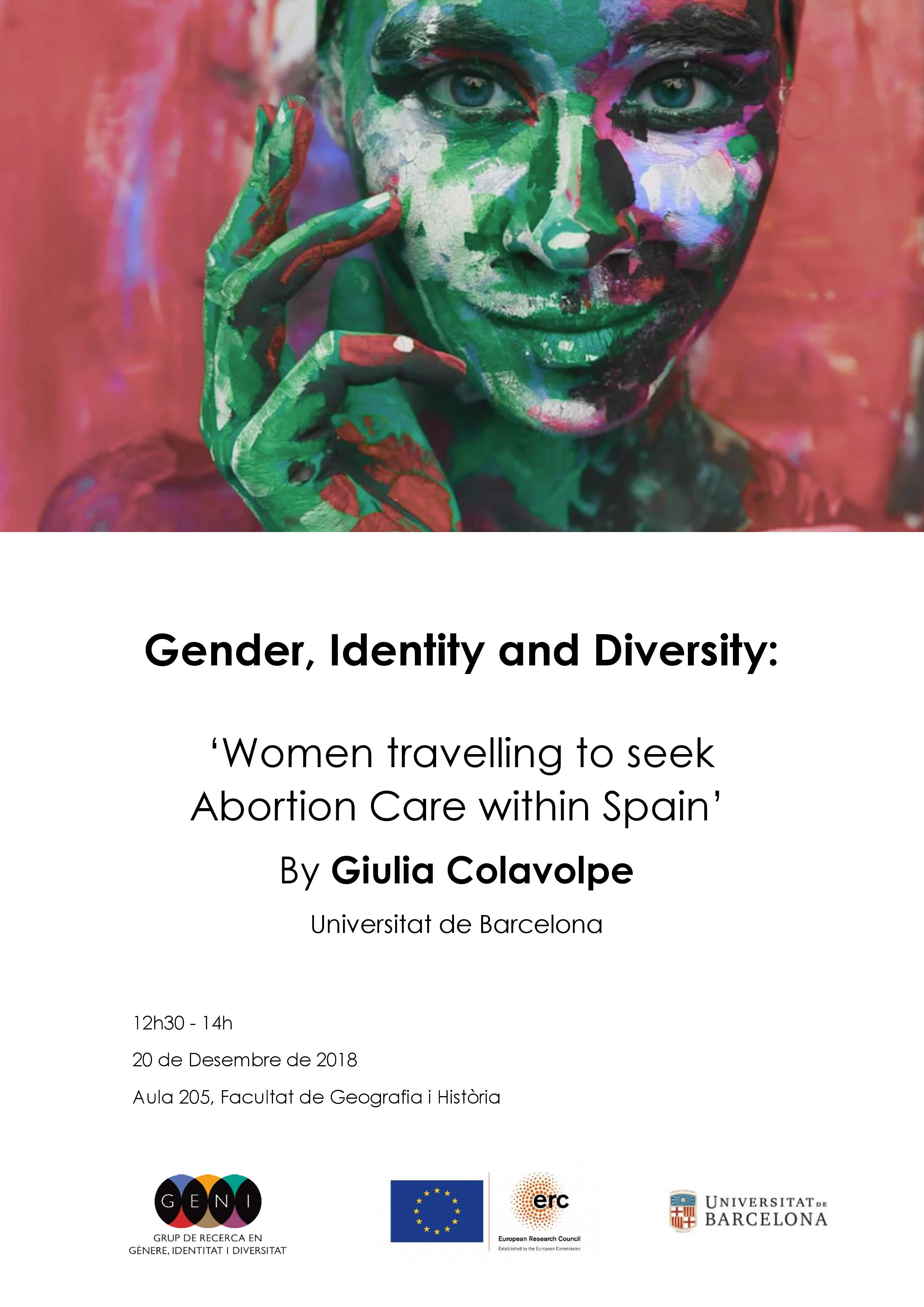 20 December 2018
GENI organises the session 'Gender, Identity and Diversity: Women travelling to seek Abortion Care within Spain' presented by the researcher Giulia Colavolpe
12h30 a 14h
Aula 205
Facultat de Geografia i Història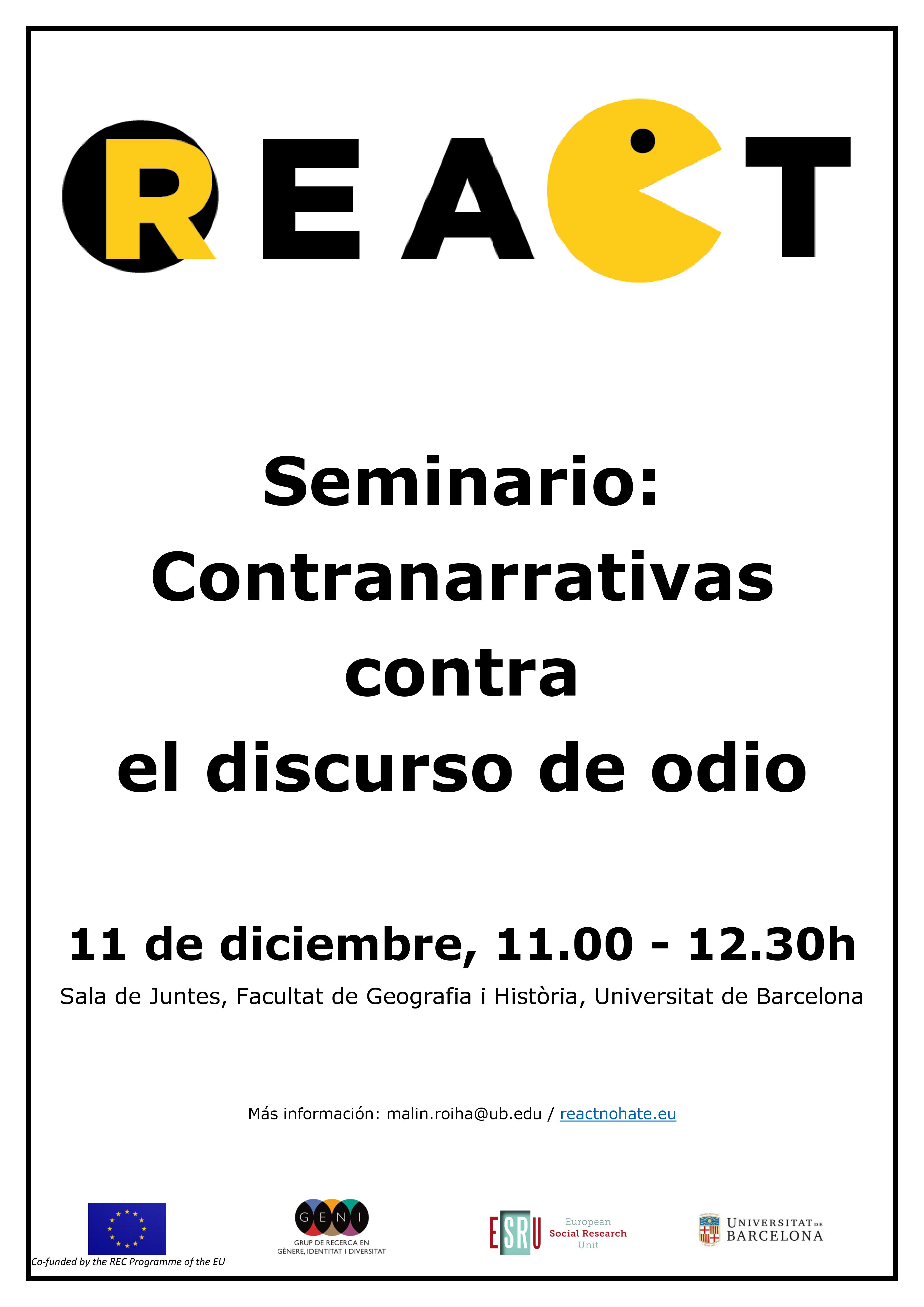 11 December 2018
The European Social Research Unit (ESRU) organises the Seminar #REACT 'Las contranarrativas contra el discurso de odio' for the project REACT co-financed by the Rights, Equality and Citizenship Programme (REC) of the EU.
11h – 12h30
Sala de Juntes
Facultat de Geografia i Història.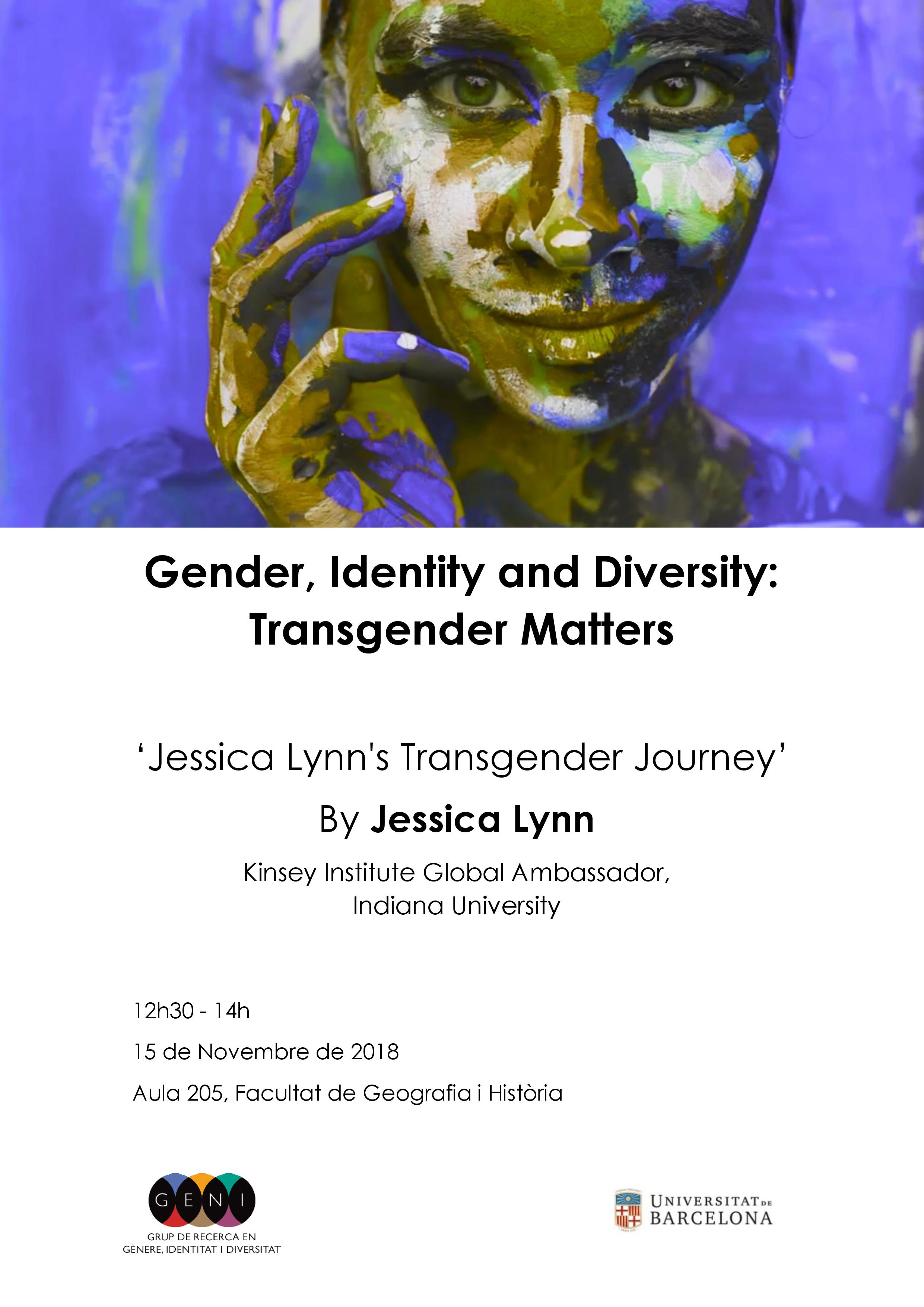 15 and 16 November 2018
GENI organizes the session 'Gender, Identity and Diversity: Transgender Matters' with the activist Jessica Lynn who will present 'Jessica Lynn's Transgender Journey'.
12h30 – 14h
Room 205
Facultat de Geografia i Història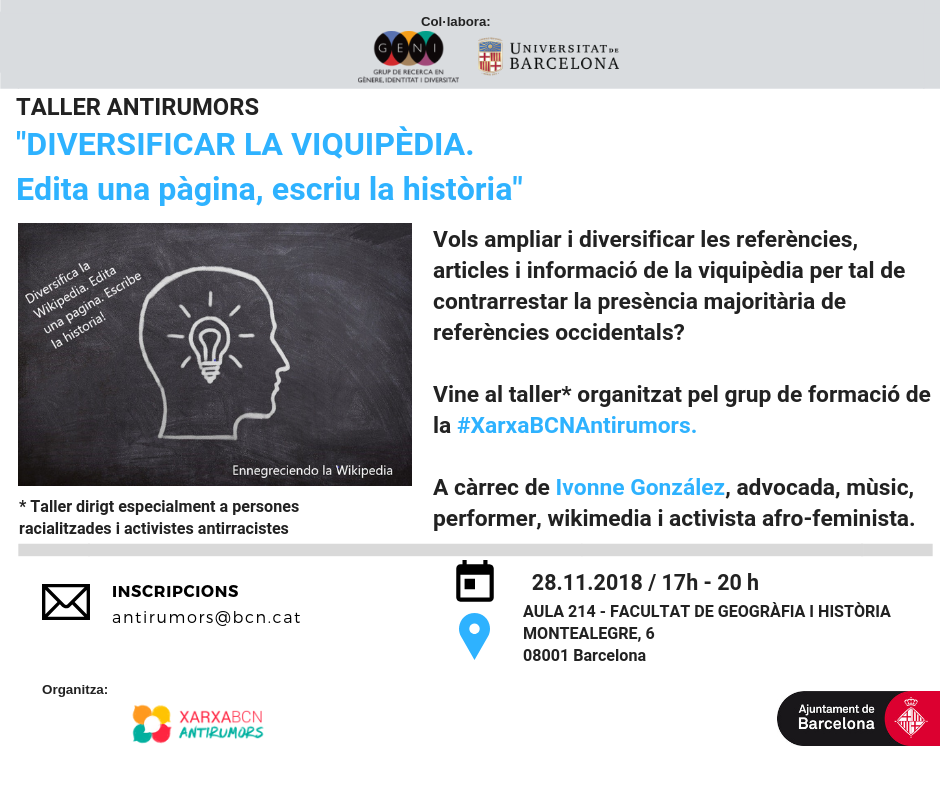 28 November 2018
The Xarxa Anti-Rumors organises, together with GENI, the workshop: 'Diversificar la Viquipèdia. Edita una pàgina, escriu la història.' which aims to diversify references, articles and content in Wikipedia to balance the overwhelming presence of Western referents.
The workshop will be conducted by Ivonne Gonzalez, lawyer, musician, performer, wikimedia and afro-feminist activist and will take place on the 28 Novembre from 17h to 20h at Espai Avinyó
You can register for this event at: antirumors@bcn.cat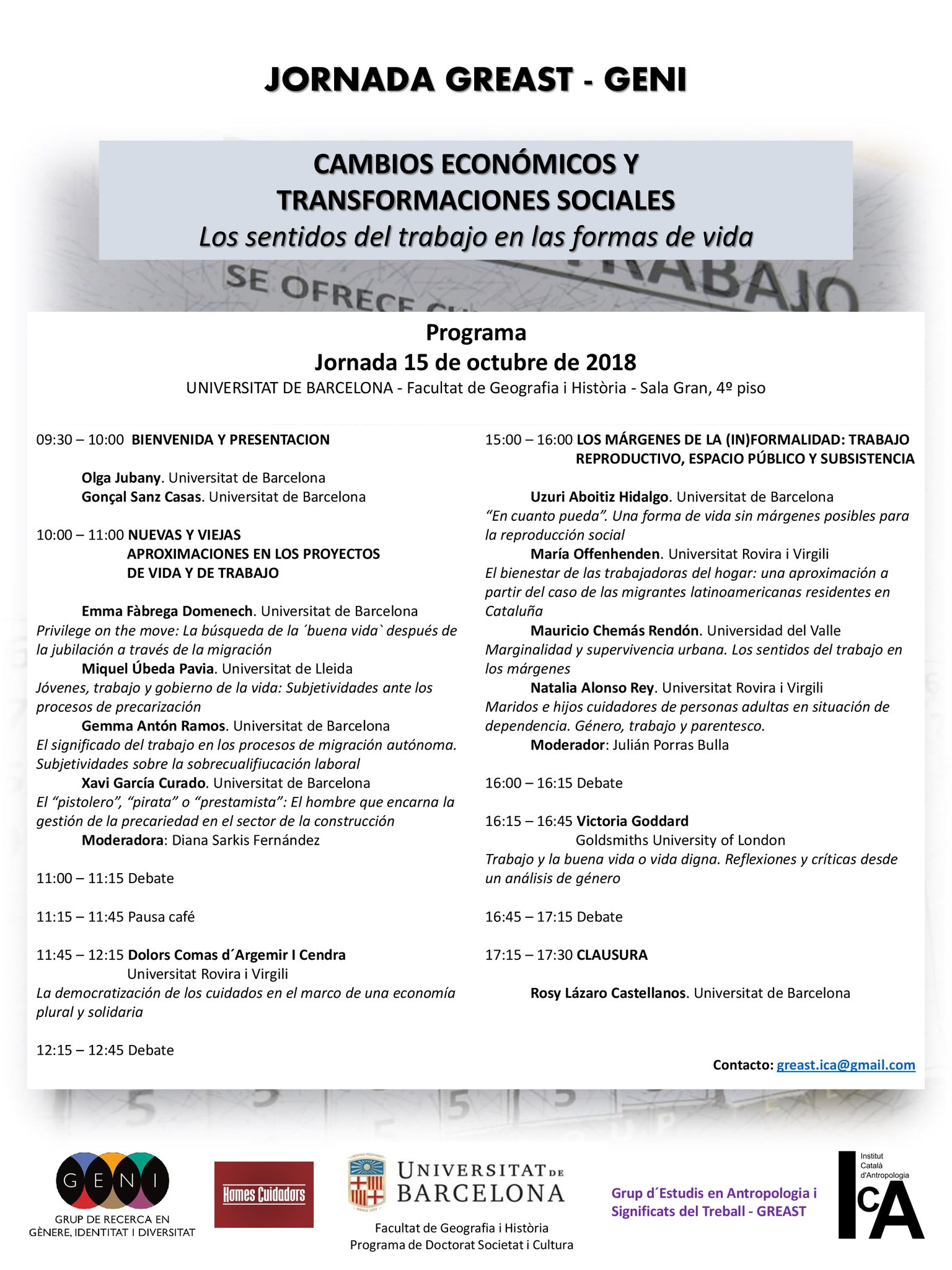 15 October 2018
The research group GREAST-ICA organises with the collaboration of GENI the conference: Cambios Económicos y Transformaciones Sociales. Los sentidos del Trabajo en las Formas de Vida
Sala Gran de la Facultat de Geografia i Història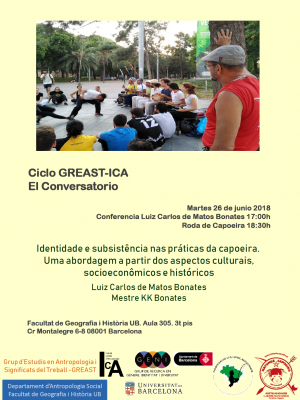 26 June 2018
The research grup GREAST-ICA organises, with GENI, the conference "Identidade e subsistência nas práticas da capoeira. Uma abordagem a partir dos aspectos culturais, socioeconômicos e históricos", by Luiz Carlos de Matos Bonates, mestre KK Bonates.
At 17:00h – Facultat de Geografia i Història UB, room 305, 3rd floor
At 18:30h there will be a Caopeira Circle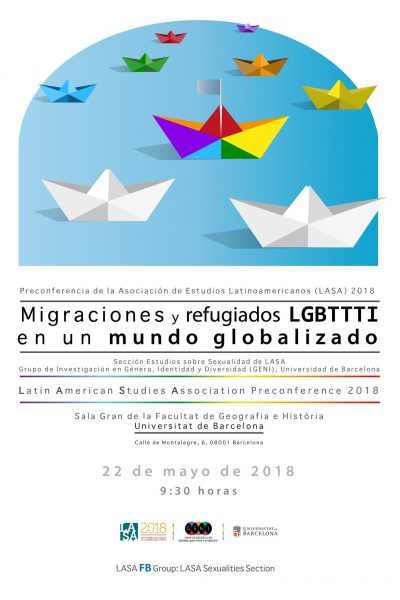 22 May 2018
GENI and the LASA Sexualities Section organize the preconference to LASA 2018 "Migraciones y refugiados LGBTTTI, en un mundo globalizado"
The session will take place in the Sala Gran of the Facultat de Geografia i Història (UB) at 9:30h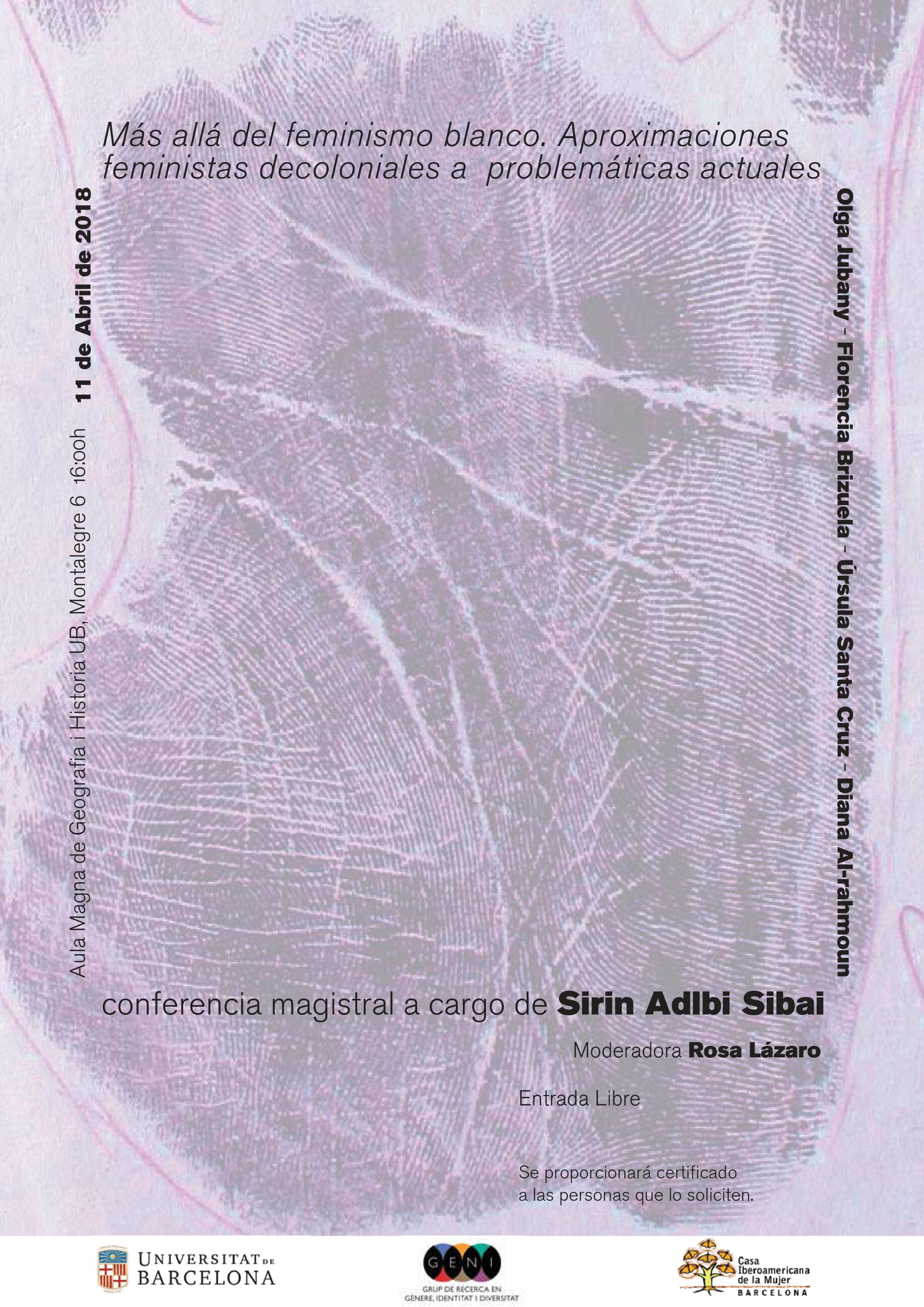 11 April 2018
GENI organises the session "Más allá del feminismo blanco. Aproximaciones decoloniales a problemáticas actuales".
Master Class by Sirin Adlbi Sibai, facilitated by Rosa Lázaro.With the participation of Olga Jubany, Florencia Birzuela, Úrsula Santa Cruz and Diana Al-rahmoun
Aula Magna, Facultat de Geografia i Història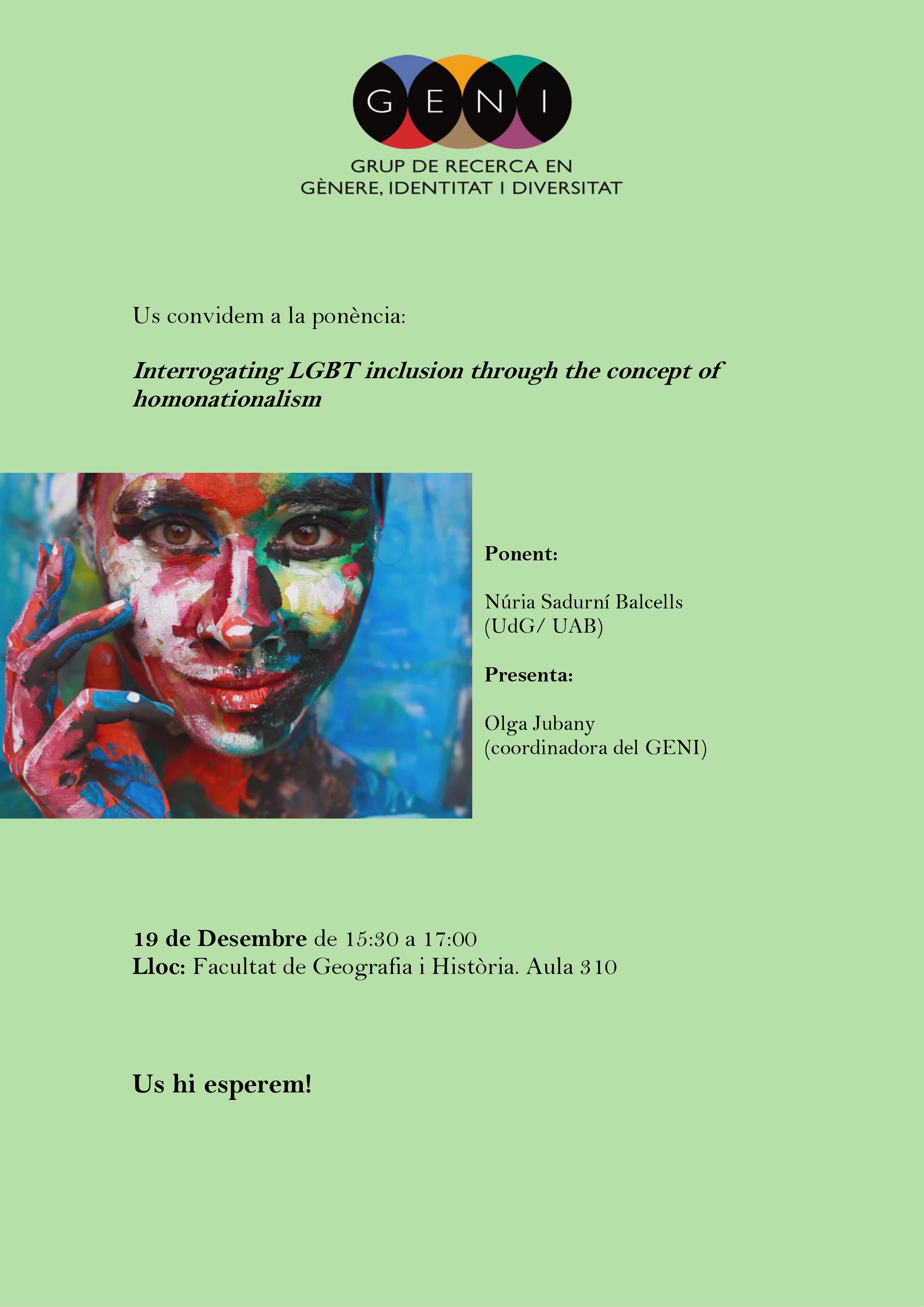 19 December 2017
Conference "Interrogating LGBT inclusion through the concept of homonationalism" by Núria Sadurní Balcells (UdG/UAB)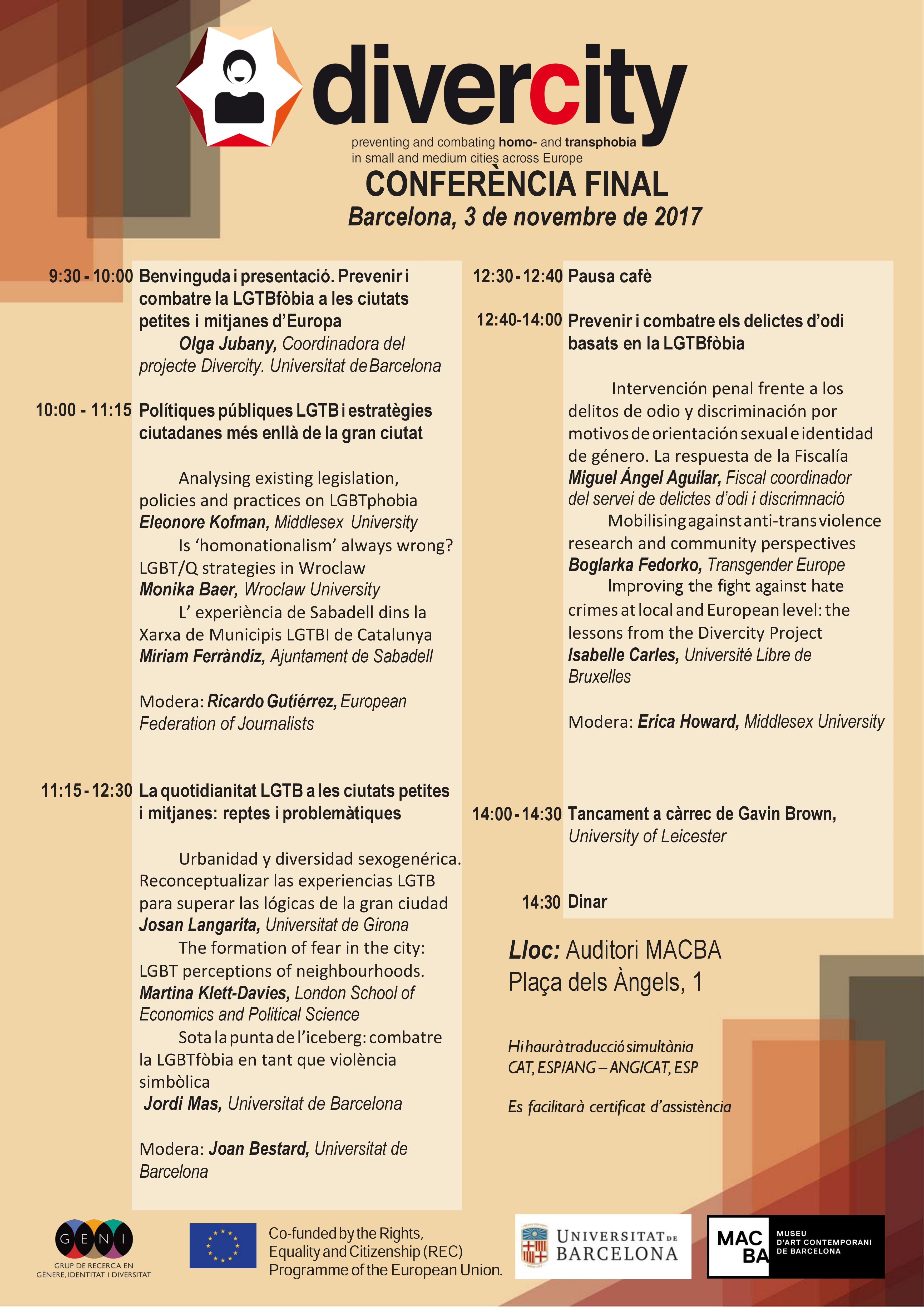 3 November 2017
Final Conference Divercity Project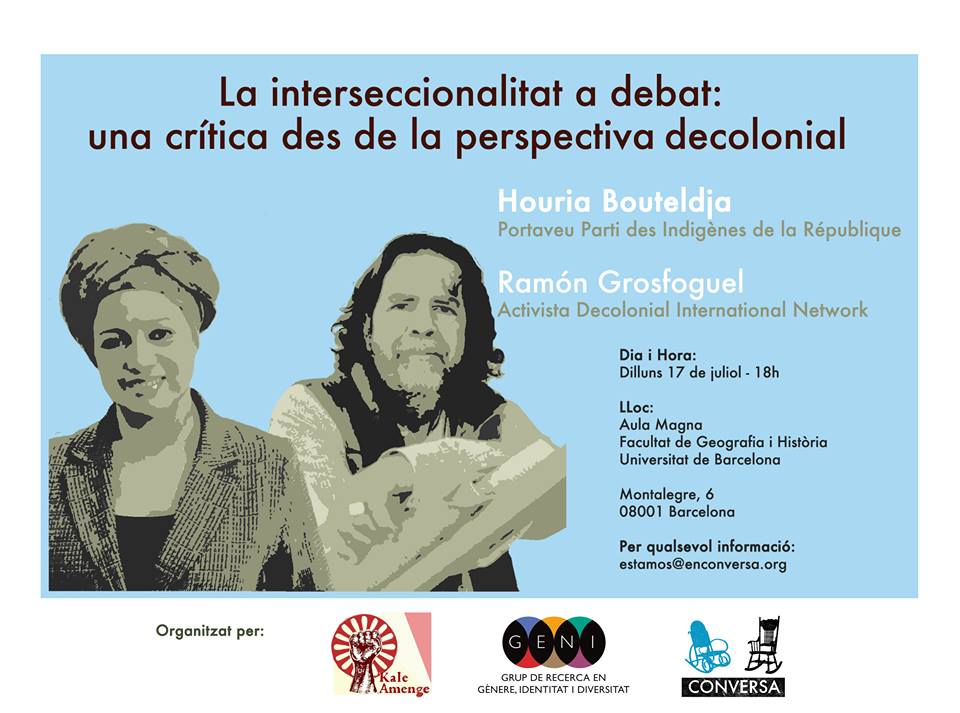 17 July 2017
Presenting the Debate: "La interseccionalitat a debat: una crítica des de la perspectiva decolonial" by Houria Bouteldja and Ramón Grosfoguel.
18:00h
Aula Magna
Facultat de Geografia i Història
Universitat de Barcelona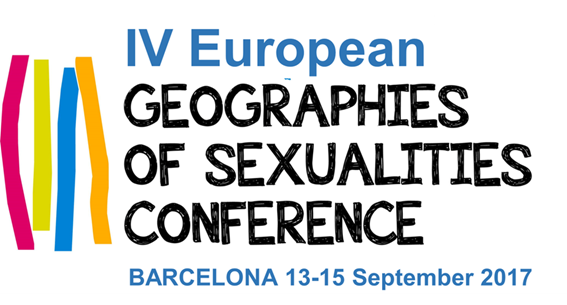 Friday, 15 September 2017 
GENI participates in the IV European Geographies of Sexualities Conference organised by the Grup de Recerca de Geografia i Gènere of the Universitat Autònoma de Barcelona with the talk: "Sexual and gender diversity in small and medium cities. Breaking the hegemony of big city perspectives"

27 April 2017 
GENI, within the second edition of the Week of Anthropology, organises a debate by the title: "Transgènere i sistema de sexe/gènere. Normativitats, violències i resistències".
Coordinated and presented by Olga Jubany (UB, ICA).
Moderated by Begonya Enguix (UOC, ICA).
Speakers
Gerard Coll-Planas (UVic)
Krizia Nardini (UOC)
Sabrina Sánchez (Activista trans)
Jordi Mas (UB)
27 April 2017 from 19.30 to 21.00h.
Place: Museu de Cultures del Món, carrer Montcada 12-14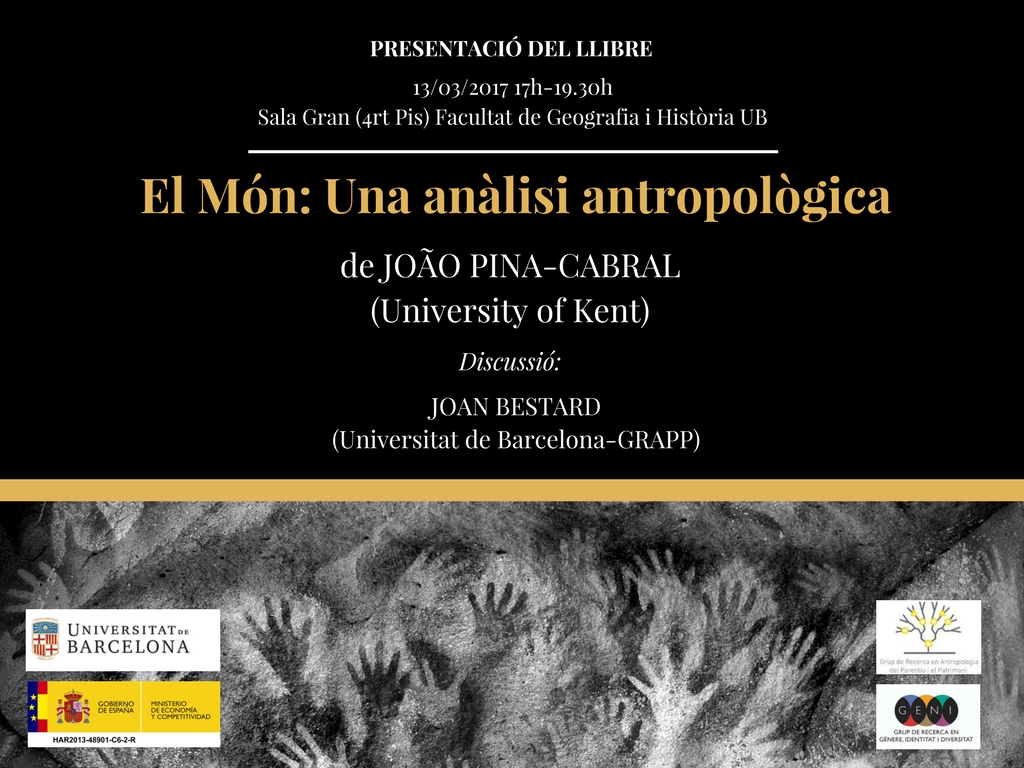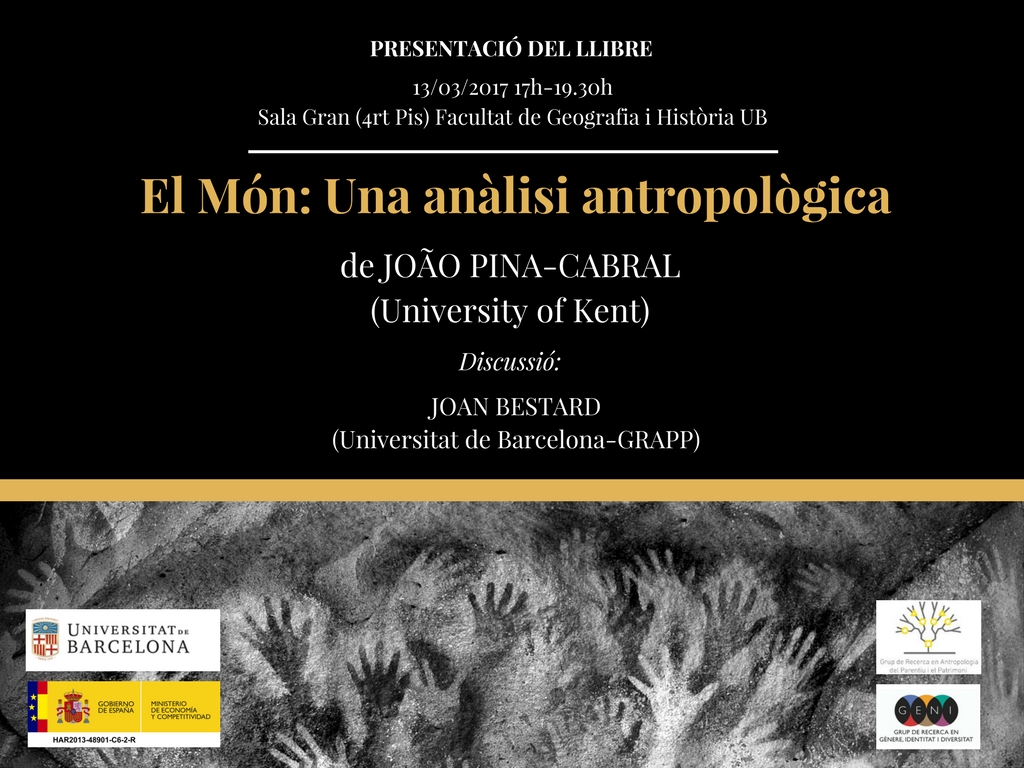 13 March 2017
Presentation of the book: "El món: Una anàlisi antropològica" de João Pina-Cabral (Universitat de Kent)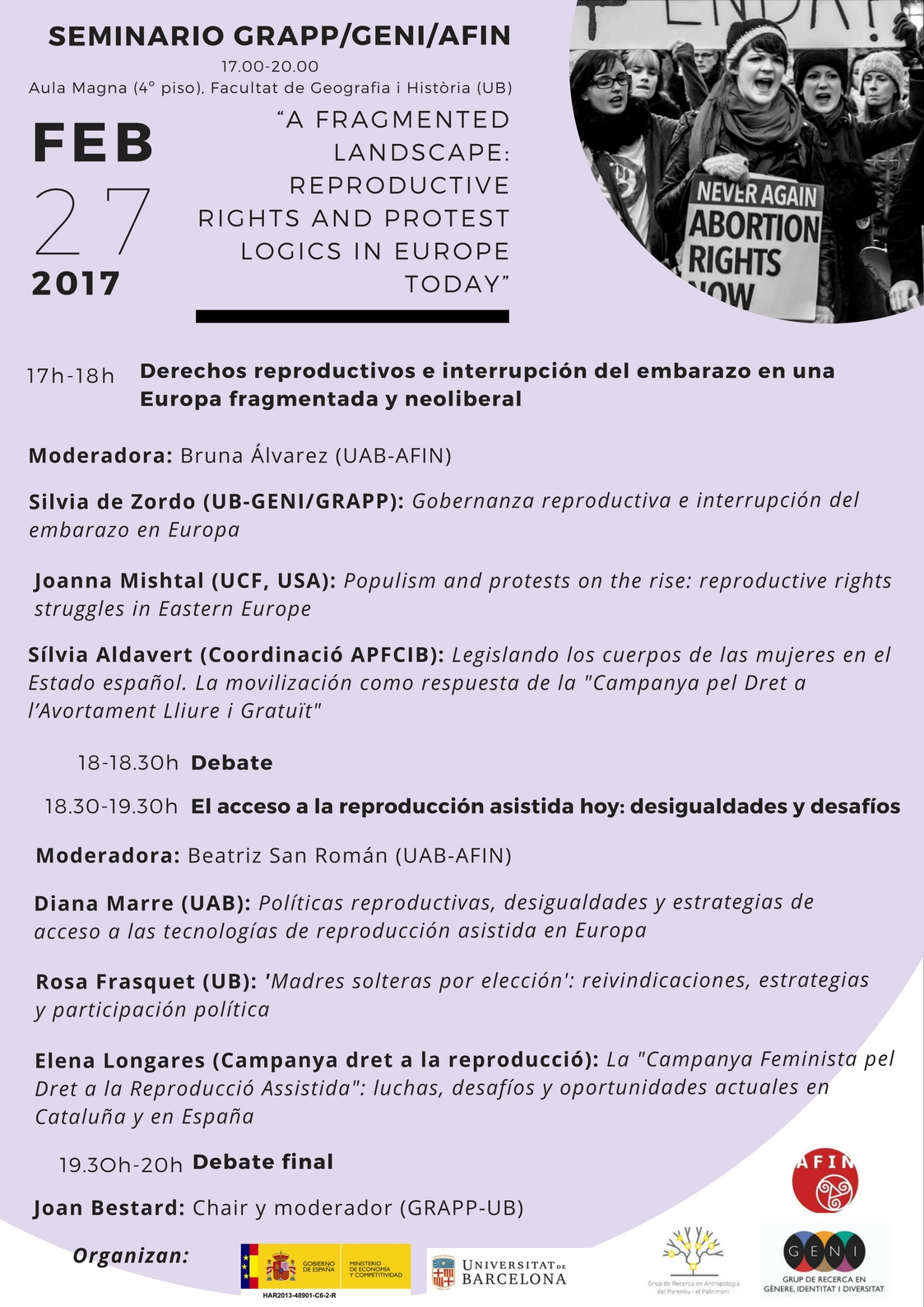 27 February 2017
GENI, together with GRAPP and AFIN, organise the seminar "A Fragmented Landscape: reproductive rights and protest logics in Europe today".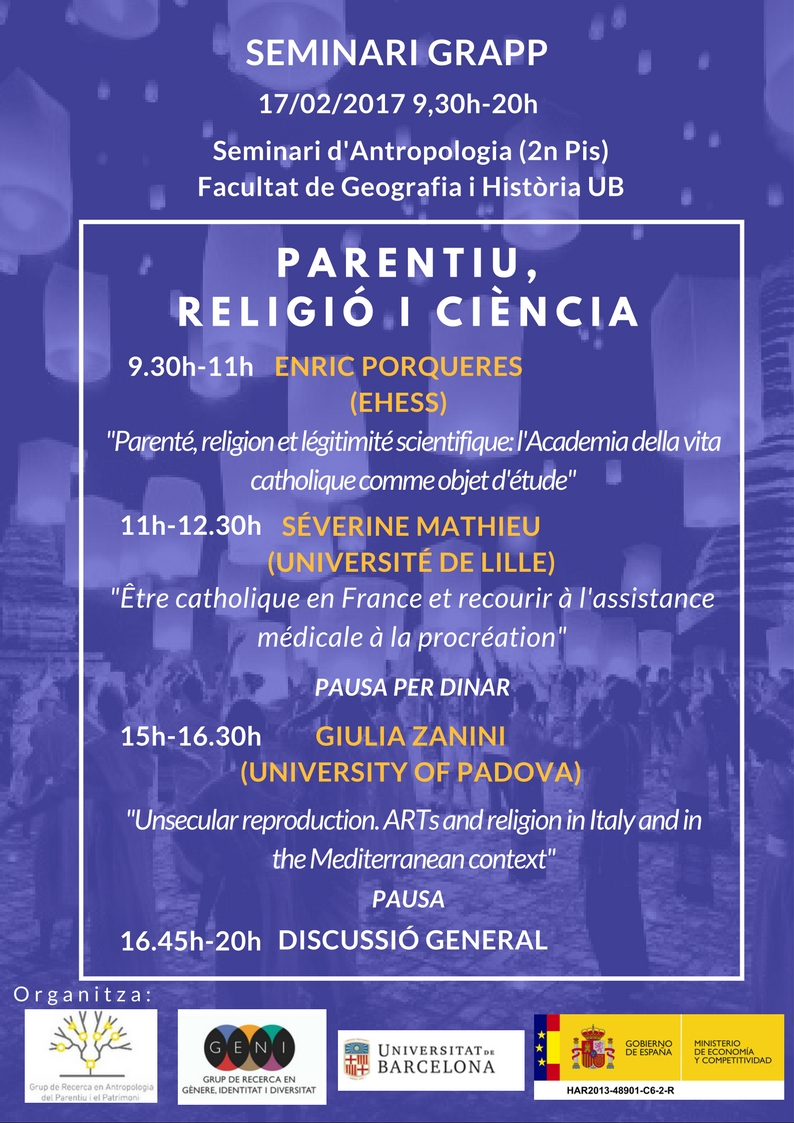 17 February 2017
El GRAPP, with the support of GENI organise the seminar "Parentiu, religió i ciència"
13 February 2017
Presentation of the book "Reproduction and Biopolitics: Ethnographies of Governance, Irrationality and Resistance"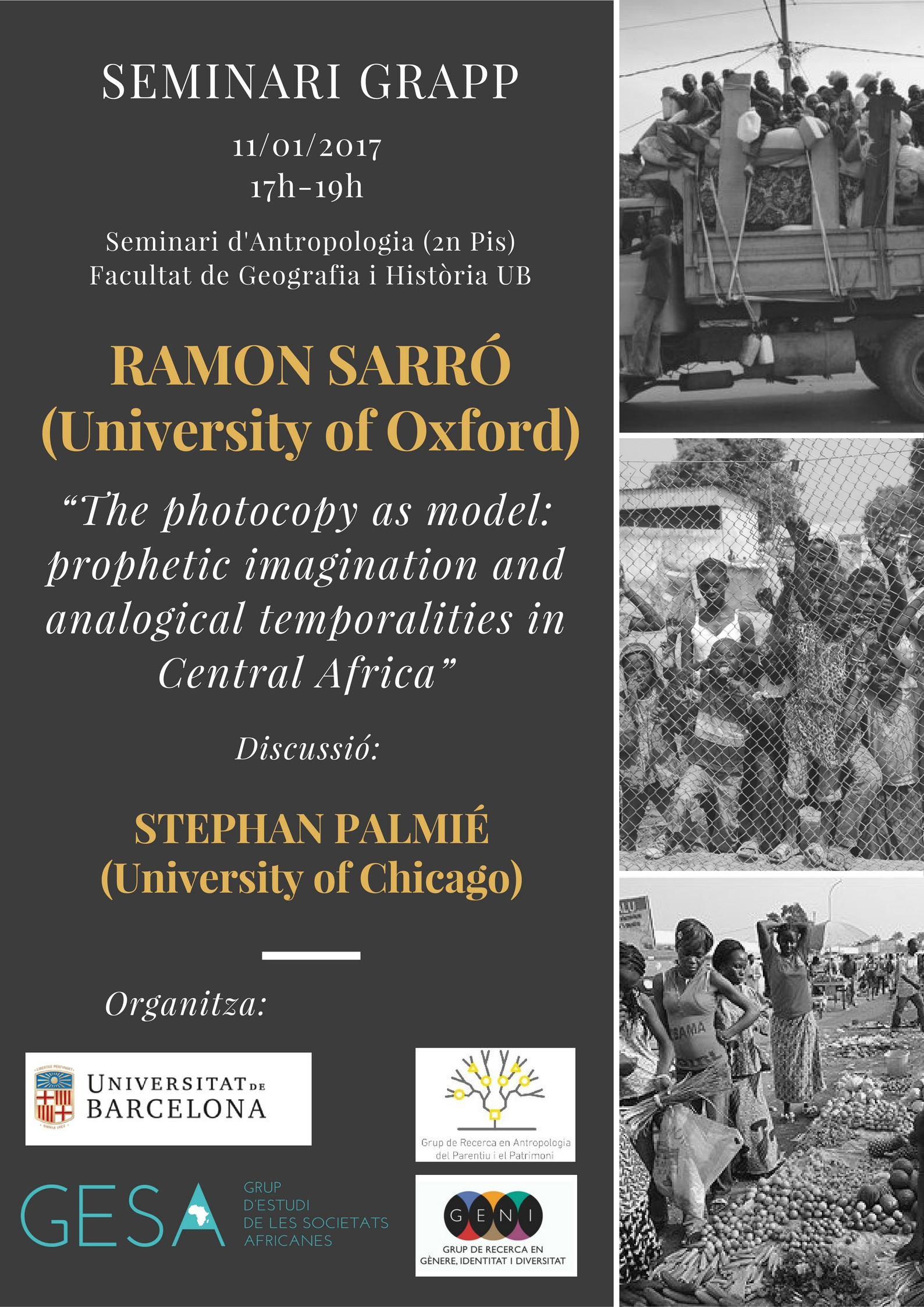 11 January 2017
GENI, together with GRAPP and GESA, organise the seminar "The photocopy as model: prophetic imagination and analogical temporalities in Central Africa".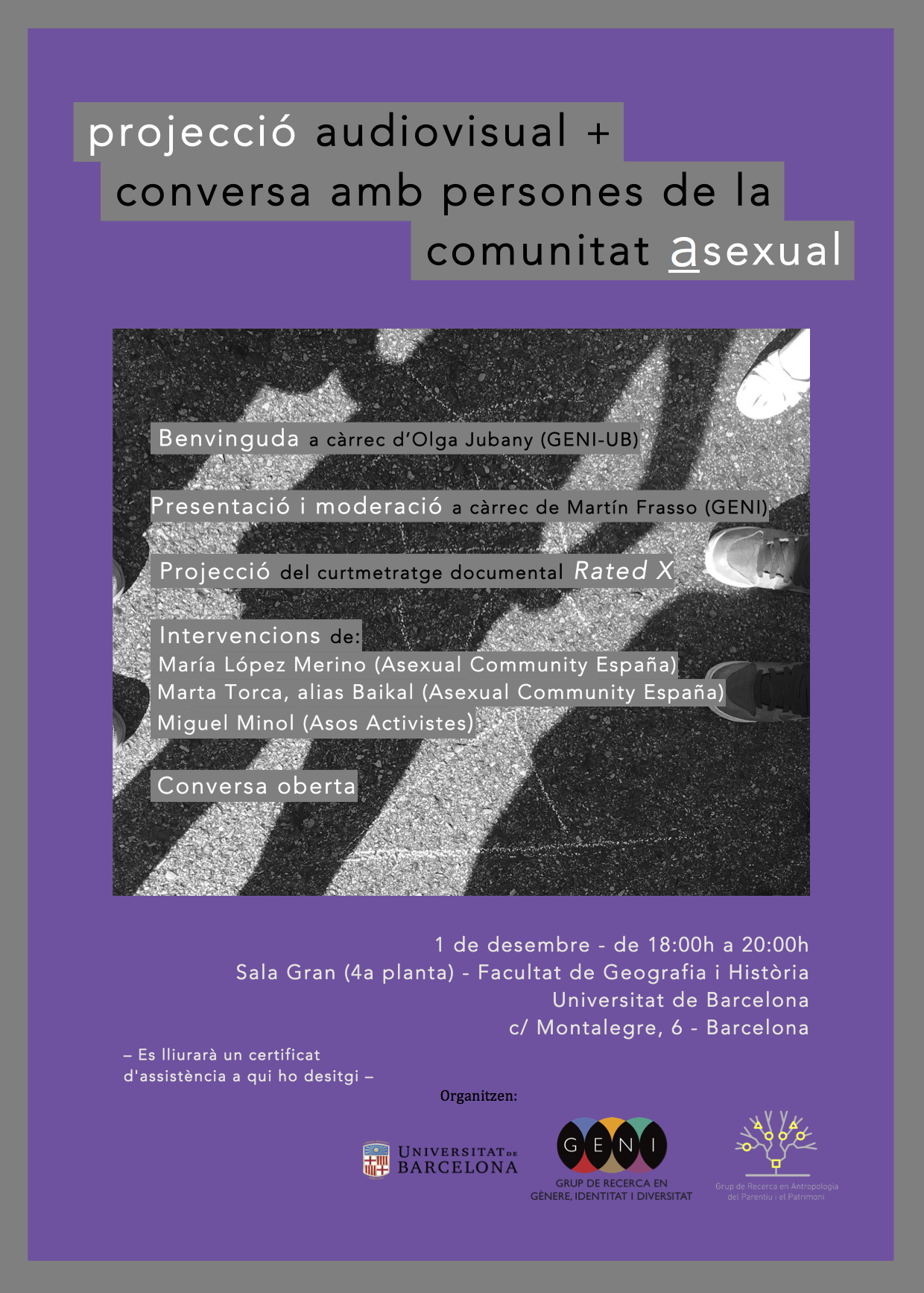 1 December 2016 
GENI organises the activity: "Projecció audiovisual + conversa amb persones de la comunitat asexual".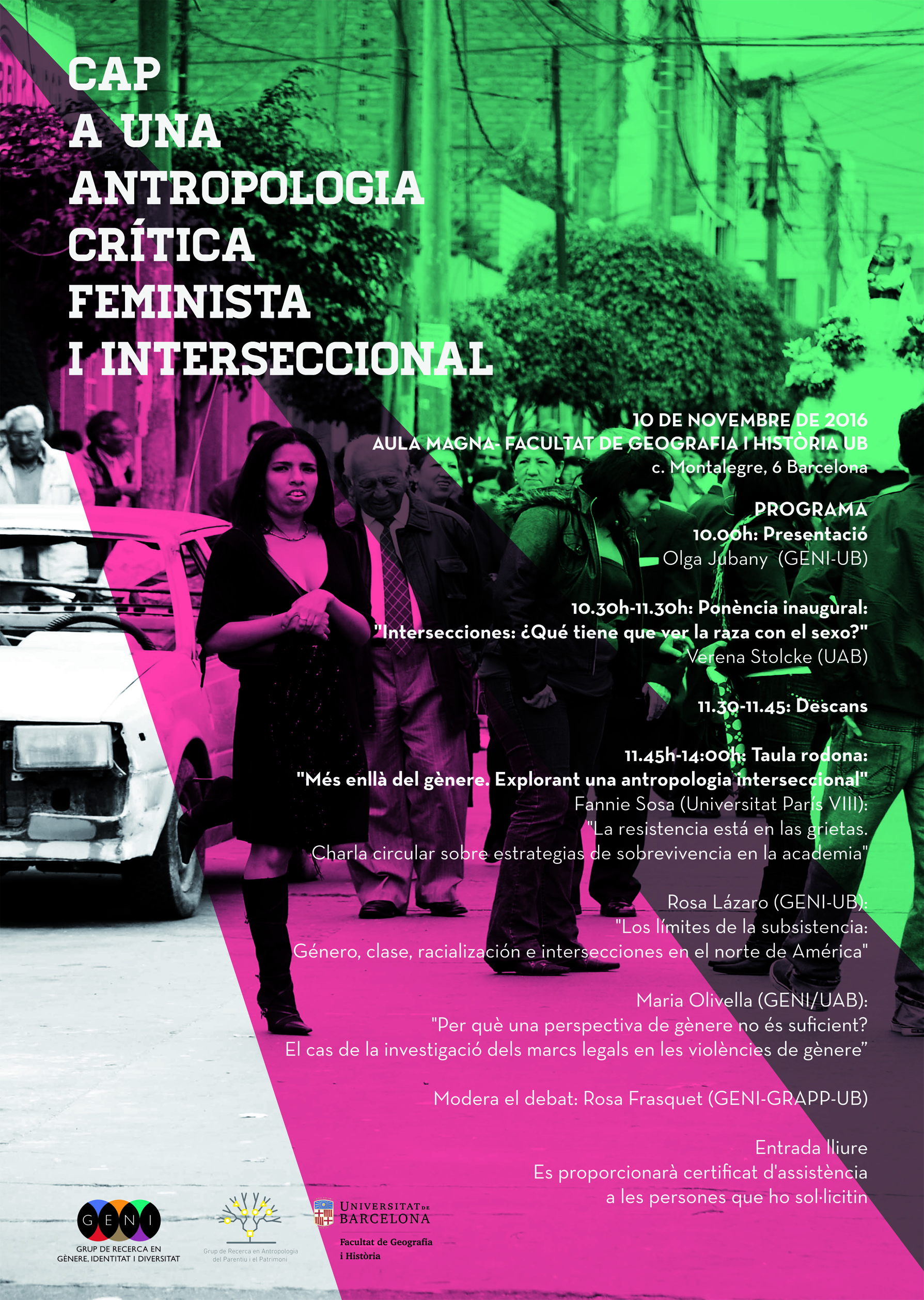 10 November 2016
GENI organises, together with PhD students from UB, the workshop "Cap a una antropologia feminista, crítica i interseccional".
14 October 2016 
GENI, together with GRAPP, organise the seminar "Matrimonios entre parientes".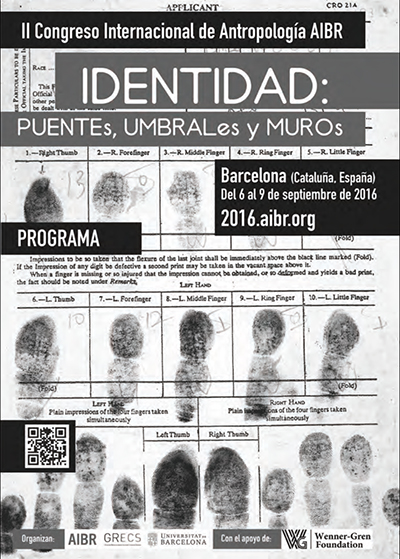 7 September 2016
GENI organises the panel "Género, identidad y las fronteras de la diversidad: una aproximación interseccional", at the II International Congress AIBR,that will take place in Barcelona from the 6th to the 9th of September 2016.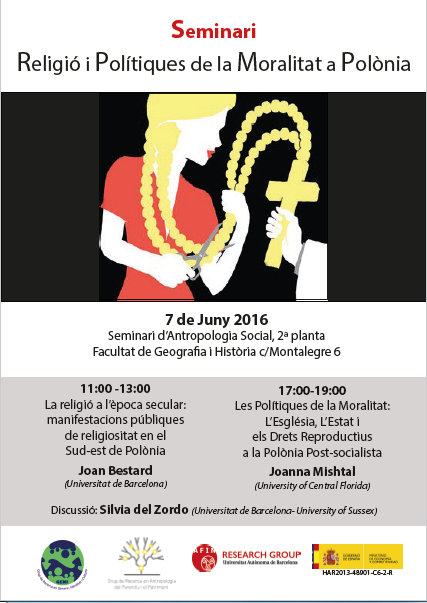 7 June 2016
GENI, together with GRAPP and AFIN, organise the seminar "Religió i polítiques de la moralitat a Polònia".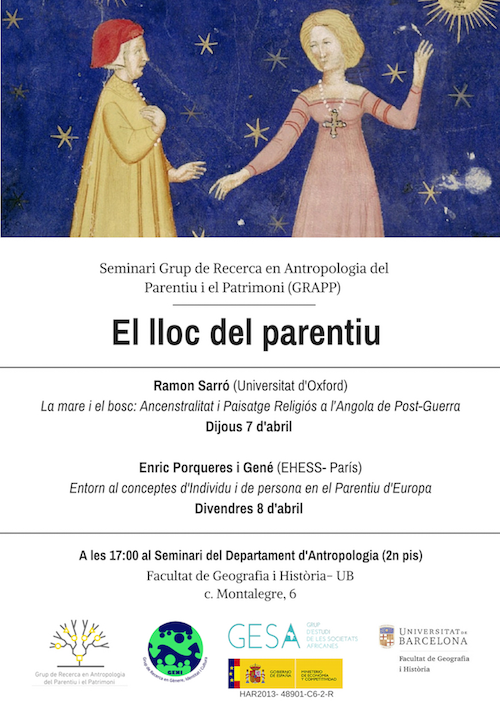 7 April 2016 
GENI, together with GESA and GRAPP, organise the seminar "El lloc del parentiu".