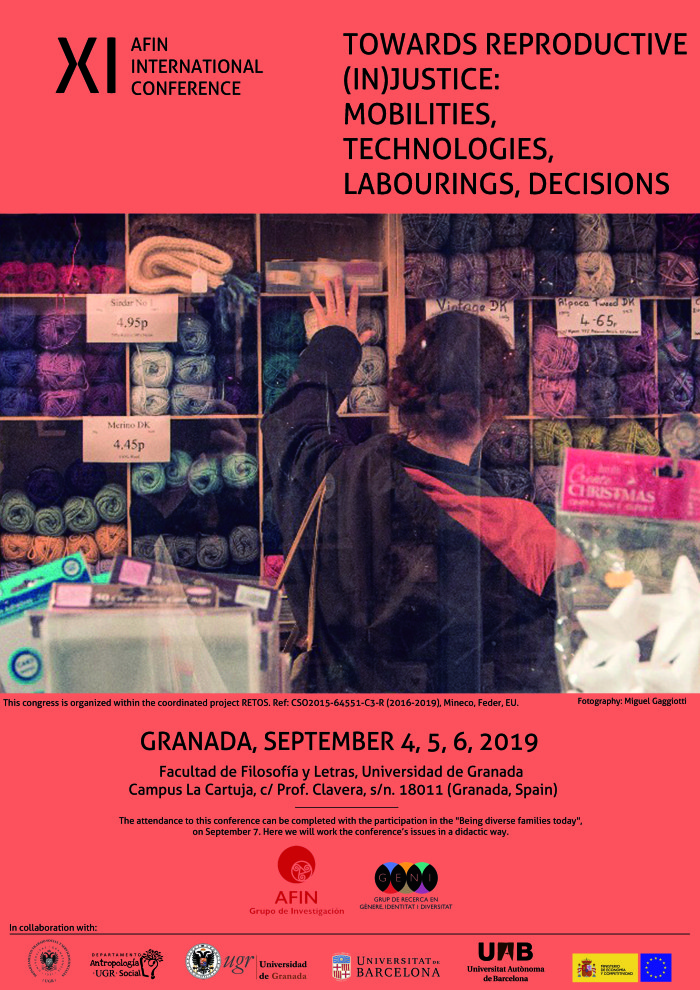 XI International AFIN Conference
Towards Reproductive (In)Justice: Mobilities, Technologies, Labourings & Decisions
4-6 September, 2019
Granada, Spain
For this conference, we invite researchers, professionals and end-users to think about reproduction in terms of stratifications, hierarchies and reproductive justice. We believe reproductive justice to be an increasingly necessary perspective in a world of growing inequalities and threatened solidarities.
The XI AFIN International Conference will focus on various aspects related to reproductive justice today. Reproduction is increasingly biomedicalized and involves transnational relations, finance, commerce, organisation and social hierarchies, human relations, moral and experiential life, and even the industrialization of human life itself (Thompson 2011).
In order to analyse these urgent questions, we invite research and practice professionals, activists, end-users and families to participate in the XI Congreso Internacional AFIN, to be held at the University of Granada on 4, 5 and 6 September 2019. To that end, we also invite submissions from those who have not as yet focused their work on reproductive justice or stratified reproduction, but who have been working in the field of reproduction and believe they can provide unique insights.
Individual communications will be organised in the following seven topic areas, which will be programmed along with plenary sessions given by invited keynote speakers:
1. Origins, Revelations, Anonymity, Secrets
2. (In)mobilities and Borders
3. Justice, Stratifications and Intersections
4. Queer Kinships, Solidarities and Affinities
5. Environments, Populations, Species, Ecologies
6. Labours, Intimacies, Care
7. Health, Medicine, Science, Technology
Important Dates:
– Abstract submission deadline: 31 March 2019. Please send a 300-word abstract, a short bio, and one of the 7 topic areas you would like to be included in, at the email address indicated for each panel.
– Abstract admission responses: 6 May 2019.
– Early bird registration (130 euros): 10 May to 14 July.
– General inscription (150 euros): 15 to 31 July.
Following the congress will take place the Families and Practitioners Workshop
Titled "Ser Familias Hoy: Algunas respuestas a los desafíos de la diversidad reproductiva", this workshop, talks and meetings (in Spanish) is aimed at parents, tutors, educators and professionals, focusing on issues around: 'origins' in adoption, the challenges of open adoption, sexual and emotional education for children and teenagers, sexual diversity, discussing death in childhood and reproductive contexts.
More information about this event will be available soon.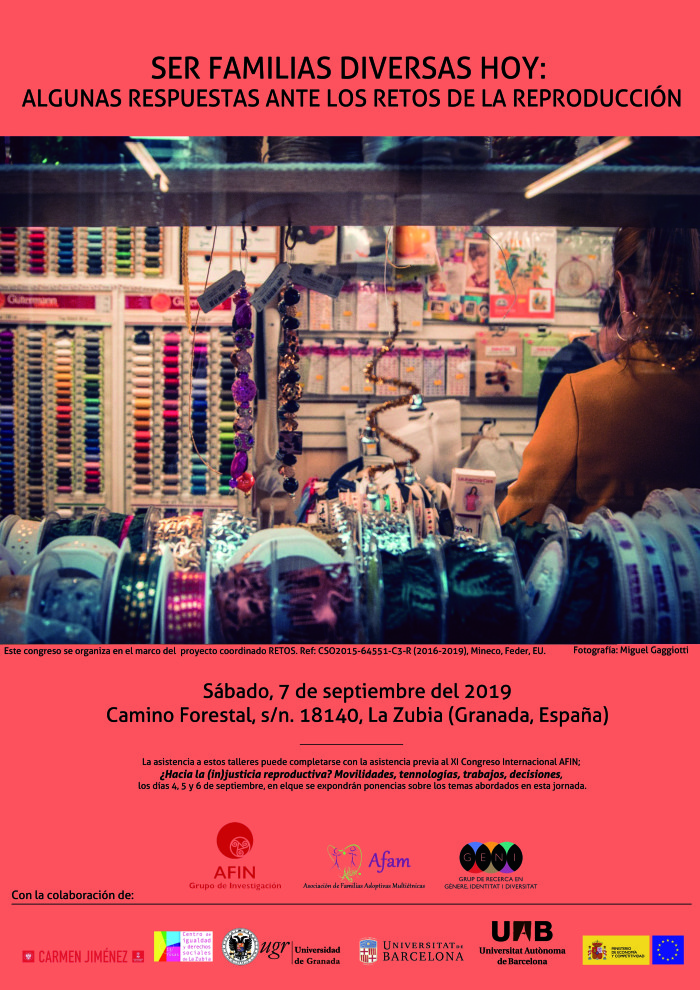 For further information visit: https://afinconference2019.wordpress.com